Offer a Massage gift voucher
Massage gift voucher Manque traduction The benevolent presence of the Buddha carved in the rock invites to let go and recharge.
Manque traduciton
* referred to non therapeutic
Choose massage and length according to your wishes and budget We will send the voucher by mail or email to print once payment is received
Beneficiaries will just have to contact us to reserve the date!
The voucher is valid 6 months
Californian massage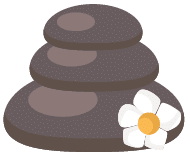 Stress reduction, better balance nerve, improve the digestive process, light sensations and well-being are the main significant overall benefits.
1h / 60€
Massage
relaxing

Combine back massage and feet and legs massage helps relax the body in general, brings deep feelings of relaxation. Recommended after exercise, it prevents aches and stiffness.
1h / 60€
De-stressing massage

This back massage helps decrease stress, it works on the nervous system body as well as on the psychological wellness.
30 mn / 30€
45 mn / 45€
Relaxing foot massage

This massage provides a feeling of well being and tranquility, it allows to maintain a good health or even to improve it.
45 mn / 45€
How to book a massage gift voucher?
You can contact us by phone, come to the guest house or online: