Relaxing massage
Estelle's certified massage oils offer a moment of relaxation for a moment of pure happiness.
Reservations before your arrival or on site depending on availability.
Californian massage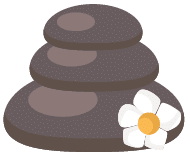 Stress reduction, better balance nerve, improve the digestive process, light sensations and well-being are the main significant overall benefits.
1h / 60€
Relaxing massage

Combine back massage and feet and legs massage helps relax the body in general, brings deep feelings of relaxation. Recommended after exercise, it prevents aches and stiffness.
1h / 60€
De-stressing massage

This back massage helps decrease stress, it works on the nervous system body as well as on the psychological wellness.
30 mn / 30€
45 mn / 45€
Relaxing foot massage

This massage provides a feeling of well being and tranquility, it allows to maintain a good health or even to improve it.
45 mn / 45€
massages referred nontherapeutic